Of course we must also be able to work backwards; that is, we must be able to find the line, if it exists, that corresponds to a Plücker coordinate. Given a coordinate

, we know that

. Our aim is to find
.

In particular, we know that:







After rearranging the above equations, finding
merely involves solving the following system:





Since any point on the line would be a solution of this system, we know that the system has infinitely many solutions (it is undetermined), and thus the coefficient matrix has no inverse. We could proceed by row reduction or whatever method. The general solution would to this system would have the form

, which is precisely what we are after.

An easier way to proceed was pointed out to me by Conor Stokes. The vector

points from the origin to a point on the line that is closest to the origin. Recall that

.

Consider the point

on the line which is is the point closest to the origin.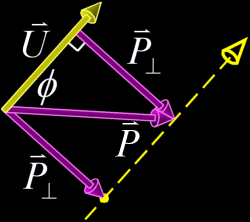 is the component of
perpendicular to

. If

is the smallest angle between

and
, then

. From the definition of the cross-product we can now say

. Consider now the vector

, that is,

. Another cross product identity gives us

. Since

is perpendicular to

, we can write:





Marvelous! We can now decompose

into a direction

and a point

.